CIVIT Tech Day: The Art and Tech of 360° Video
The CIVIT Technology Day on the Art and Tech of 360° Video shall mark the launch of the CIVIT Partnership Programme. After one year of active existence, CIVIT is ready to take the next challenging step as an effective platform for running collaborative projects, attracting talented students and maintaining an active relationship with related industries.
We invite everyone interested in the CIVIT activities to come and learn more about the partnership program and to enjoy keynotes from world renowned experts in the immersive video capture, coding and streaming technologies.
360 video is passion, art and high tech. We will demonstrate on-line capture of an artistic performance and discuss the practical steps of creating immersive VR content and how a director looks at it. VR demos will be provided by the most passionate VR-ers in Finland.
09:30–09:40 – Opening address by Prof. Jarmo Takala, Dean of Faculty of Computing and Electrical Engineering
09:40–10:20 – Andrew Baldwin, Senior Product Manager, OZO, Nokia Technologies, OZO – The design of a VR camera
10:20–10:50 – Coffee break, light performance by Flamma, demo captured in 360
10:50–11:10 – Atanas Gotchev, Director of CIVIT: The CIVIT Partnership Programme
11:10–11:50 – Miska Hannuksela, Distinguished Scientist, Nokia Labs, Coding and Streaming of 360 video
11:50–13:10 – Lunch break, serving lunch and coffee, visiting TUTLab, demos by VR Finland
13:10–13:50 – Ilmari Huttu-Hiltunen, Rakka Creative, The 360 video production workflow
13:50–14:30 – Kasimir Lehto, Director, Sterographer, founder of Mandala VR, At the dawn of a new storytelling universe
14:50–16:50 – Informal gathering in CIVIT premises, featuring demos of CIVIT equipment
Sähkötalo, Auditorium S1
Tampere University of Technology
Korkeakoulunkatu 3
33720 Tampere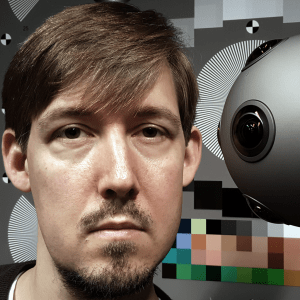 Andrew Baldwin, Senior Product Manager, OZO, Nokia Technologies. With a 20 year career creating smart devices in companies including Psion, and Nokia, in late 2013 Andrew became a key member in the small team that developed the concepts and technology behind the Nokia OZO – the first VR camera purpose built for professionals. In the role of Product Manager, he helped to bring it successfully to the market during 2016.
Ilmari Huttu-Hiltunen, Founder & CEO, Rakka Creative. After 15 years in television production and content development he wanted to start creating content for cinematic virtual reality. Ilmari has his background in directing and sound design and has done development projects with emerging media technologies when working at Yle Production and Design. Ilmari focuses on developing storytelling in cinematic virtual reality to get more value for his customers' productions and to create content that takes full advantage from the new form of storytelling.
Kasimir Lehto, Virtual Reality Director. Strong background in conceptual design, directing actors and in visual storytelling. Kasimir Lehto is highly innovative and known professionally for working in cutting-edge projects. He is driven in adopting new digital production technologies and complex storytelling techniques. Kasimir's background and diverse skills makes him an ideal director for creating and managing engaging Virtual Reality productions. After graduating (MA in Cinematography), Kasimir started shooting commercial films for A-list production companies. It did not take too long untill he was shooting feature films. Today he has shot over 200 commercials, 4 theatrical released feature films and worked as a Stereoscopic 3D Supervisor in 3 Hollywood productions.
Miska Hannuksela received his Master of Science degree in engineering and Doctor of Science degree in technology from Tampere University of Technology, Finland, in 1997 and 2010, respectively. He has been with Nokia since 1996 in different roles including research manager/leader positions in the areas of video and image compression, end-to-end multimedia systems, as well as sensor signal processing and context extraction. Currently he works as Distinguished Scientist in Nokia Technologies, Tampere, Finland. He has published more than 150 journal and conference papers and hundreds of international standardization contributions. He has held an editor position in many international standards, including the Advanced Video Coding (H.264/AVC) and the High Efficiency Video Coding (H.265/HEVC) specifications. He has granted patents from more than 80 patent families. His research interests include video compression and multimedia communication systems.